SEO Glossary Recommends:
Recently Added Terms
Ads
us to see your advertising here.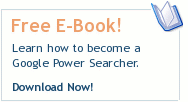 Brain Teasers
SEO Glossary: X
Clicking on the glossary title will take you to further information about the term.
A software tool to check broken links. [edit]
XML stands for Extensible Markup Language (filename.xml) - a scripting language that allows the programmer to define the properties of the document. [edit]