Recently Added Terms
Ads
us to see your advertising here.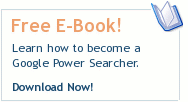 Brain Teasers
About SEO Glossary
SEOGlossary.com came about from an idea from Netconcepts founder, Stephan Spencer as part of his workshops on SEO. He developed an extensive glossary of SEO terms, which he handed out to the audience. He decided to make this content freely available to all on the web, but in a way that allowed other SEO experts to contribute and revise these definitions.
The site was launched January 2005. Netconcepts designed, built and hosts SEOGlossary.com
If you have any concerns or questions, you may contact them at infodesk@netconcepts.com or by phone to 608 285 6600.