SEO Glossary Recommends:
Recently Added Terms
Ads
us to see your advertising here.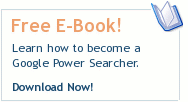 Brain Teasers
Noframes tag
alternative non-framed HTML on a frameset page for very old, non-frames capable web browsers and search engine spiders. Placing good keyword-rich text in noframes tags is a good idea if your site is framed, but a much better idea is to ditch frames altogether and rebuild the site properly. A framed web site is not search engine friendly as long as it uses noframes tags.