SEO Glossary Recommends:
Recently Added Terms
Ads
us to see your advertising here.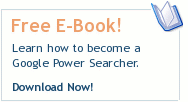 Brain Teasers
Landing Page
The landing page is a web page where people go to once they click on an online advertisement or natural search listing.

Landing pages are designed to be highly relevant to the advertisement or search listing and encourage users to complete a "call to action".

The landing page is also known as the "click through URL" or "destination URL".

Example uses of landing pages are newsletter sign up forms, download demonstration trial software and purchasing of a product or service.