SEO Glossary Recommends:
Recently Added Terms
Ads
us to see your advertising here.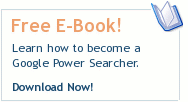 Brain Teasers
Inktomi
First introduced in September 1995, Inktomi Corporation from California was a key player in the search engine market where it pioneered online search technologies. It initially provided software to ISPs (Internet Service Providers) but then went onto power other well-known web search tools such as HotBot, Looksmart, MSN, regional search engines and others.

It ultimately displaced Alta Vista when Inktomi started using a distributed network technology (instead of operating everything on one machine) that enabled them to index more than 1.3 million documents on the web at that time.

Inktomi was the first to launch a paid inclusion service that meant websites would receive regular and frequent re-indexing for a fee. It also invented a proxy cache for ISP web traffic called "Traffic Server".

During its short life, Inktomi acquired many businesses including Webspective, Infoseek, eScene Networks and FastForward Networks. Once the Internet bubble had burst in 2000, many of its acquisitions were sold off due to the financial collapse of most of its customer base.

Yahoo! purchased Inktomi in 2003 which remains central to its search engine database today.