SEO Glossary Recommends:
Recently Added Terms
Ads
us to see your advertising here.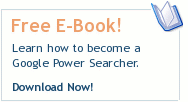 Brain Teasers
Internal Links
An Internal Link is a hypertext link that points to another page within the same website. Internal links can be used as a form of navigation for people, directing them to pages within the website. Links assist with creating good information architecture within the site.

Search engines also use internal text links to crawl pages within a website. The way internal links are structured will impact the way in which search engine bots spider and subsequently index pages.