SEO Glossary Recommends:
Recently Added Terms
Ads
us to see your advertising here.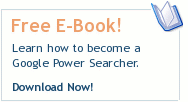 Brain Teasers
Google
Google is the world's number one search engine with a 50.8% market share, ahead of Yahoo! 23.6% and Live Search 8.4% (Dec 2006)

Google was founded by Stanford University students Larry Page and Sergey Brin in 1998. At the time of the company's initial public offering in August 2004 $1.67 billion was raised, making Google worth $23 billion.

Google's success should be attributed to its unique algorithmic ranking system PageRank – a system that assigns a score to a web page based on the number of links to that page.

Based in Mountain View, California the company now employs 13,748 people. The company has a relaxed corporate atmosphere that is illustrated in the companies philosophy "Don't be evil".

Central to Google's profitability is Google Adwords launched in 2000. Google Adwords are text-based contextual ads relevant to keyword searches. In 2006 the company earned $10.492 billion in total advertising revenues about 90 times the revenue from other Google ventures.

Google has acquired several start-up companies over the past few years including:

Pyra Labs creators of Blogger in 1999


Upstartle, creators of Writely in 2006.


Measure Map, a weblog statistics application in 2006.


YouTube for a huge $1.65 billion in stock in 2006.


JotSpot a developer of wiki technology in 2006.


DoubleClick purchased for $3.1 billion in 2007.


Postini an enterprise messaging security company in 2007.
Current Google applications include: Web search, Image Search, Google News,Google Product Search, Google Groups, Google Maps, Gmail, AdWords, Google Video, Google Checkout and Google Earth
For more:
Google Corporate History
Submitted by Brigitte Capp - Netconcepts