SEO Glossary Recommends:
Recently Added Terms
Ads
us to see your advertising here.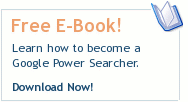 Brain Teasers
announce site to search engines
"Announce" a website to the engines by adding a link to it from another site; that is, one that's already indexed (by the search engines).

Beware! Search engine submission services which promise higher visibility in the SERPS are total a rip-off.