SEO Glossary Recommends:
Recently Added Terms
Ads
us to see your advertising here.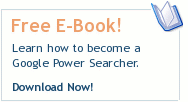 Brain Teasers
Miserable Failure
A well known example of "Google bombing", it poignantly illustrates how inbound text links can affect SERPs. In this instance, hyperlinks containing the keyword phrase miserable failure seem to reflect America's & the world's opinion of George W. Bush's performance, while positioning his White House bio in the #1 position for that search term.

So effective have the results been that today George W. Bush's White House biography is positioned at #1 on Google for the single word term, failure, forever soiling the reputation of America and office of the President.