SEO Glossary Recommends:
Recently Added Terms
Ads
us to see your advertising here.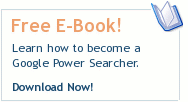 Brain Teasers
Hits
a download of a file from a web server. Hits do not correlate with web page visits. Every graphic on a web page counts as a hit. Thus, a single access of a web page with 20 unique graphics on it register as 21 hits - 20 for the graphics and 1 for the HTML page. Web metrics guru Jim Sterne says hits "stand for How Idiots Track Success." People who talk in terms of hits are usually either ignorant or are trying to snow their boss into thinking the website is doing better than it really is.