SEO Glossary Recommends:
Recently Added Terms
Ads
us to see your advertising here.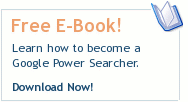 Brain Teasers
Google bombing
Google Bombing is when a group of sites such as blogs join forces to link to an unflattering page about a company such that this page rises to the top of the search results in Google. Google bombing takes advantage of the power of hyperlink text and of PageRank. For example, if a group of sites with high PageRank all link to a page about XYZ Company's inappropriate behavior with hyperlink text of "XYZ Company sucks" then the linked page can shoot to the top of Google's search results for the term "XYZ Company."