SEO Glossary Recommends:
Recently Added Terms
Ads
us to see your advertising here.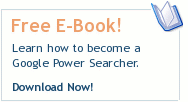 Brain Teasers
Flash intro
an animated 'short' created using Flash that Internet users are made to sit through upon entry to a home page. Flash intros annoy users. They also typically take the place of text content on a home page, and since search engines can't 'read' content embedded in Flash, the rankings of a home page that's just a Flash intro will suffer.