SEO Glossary Recommends:
Recently Added Terms
Ads
us to see your advertising here.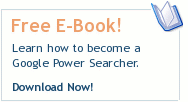 Brain Teasers
Splash page
A home page that is, for the most part, devoid of content. Often times created in Flash. Splash pages usually say something to the effect of "Enter Here" or "Choose our Flash-enabled site or the HTML version". Splash pages are an annoyance to Internet users as they introduce an extra hoop that the user has to jump through before they get to any meaningful content. Splash pages are also damaging to search engine rankings. Consider that your home page is typically considered by search engines as the most important page of your site. If your home page is a content-less splash page, then it's a wasted opportunity.