SEO Glossary Recommends:
Recently Added Terms
Ads
us to see your advertising here.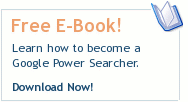 Brain Teasers
Spider trap
An infinite loop that a spider may get caught in if it explores a dynamic site where the URLs of pages keep changing. For example, a home page may have a different URL and the search engine may not be able to ascertain that it is the home page that it has already indexed but under another URL. If search engines were to completely index dynamic web sites, they would inevitably have large amounts of redundant content and download millions of pages.