SEO Glossary Recommends:
Recently Added Terms
Ads
us to see your advertising here.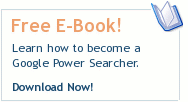 Brain Teasers
AdWords
Google's CPC (Cost Per Click) based text advertising. AdWords takes clickthrough rate into consideration in addition to advertiser?s bid to determine the ad?s relative position within the paid search results. Google applies such a weighting factor in order to feature those paid search results that more popular and thus presumably more relevant and useful. Google has also started taking into account the quality of the landing page and applying a quality score to the landing pages.